Tfue is the alias used by the famous United States eSport player Turner Tenney. Chiefly known for his skills plaing Fortnite, Tfue is a social media phenomenon with massive amounts of viewers following his daily streaming sessions. In 2018, he had over 6.6 million subscribers on YouTube and more than 3.4 million followers on Twitch.
On June 8, 2018, Tfue – together with his friends FaZe Cloak, One_shot_GURL, and NickEh 30 – accomplished 53 squad kills, thus setting a new PC record for Fortnite.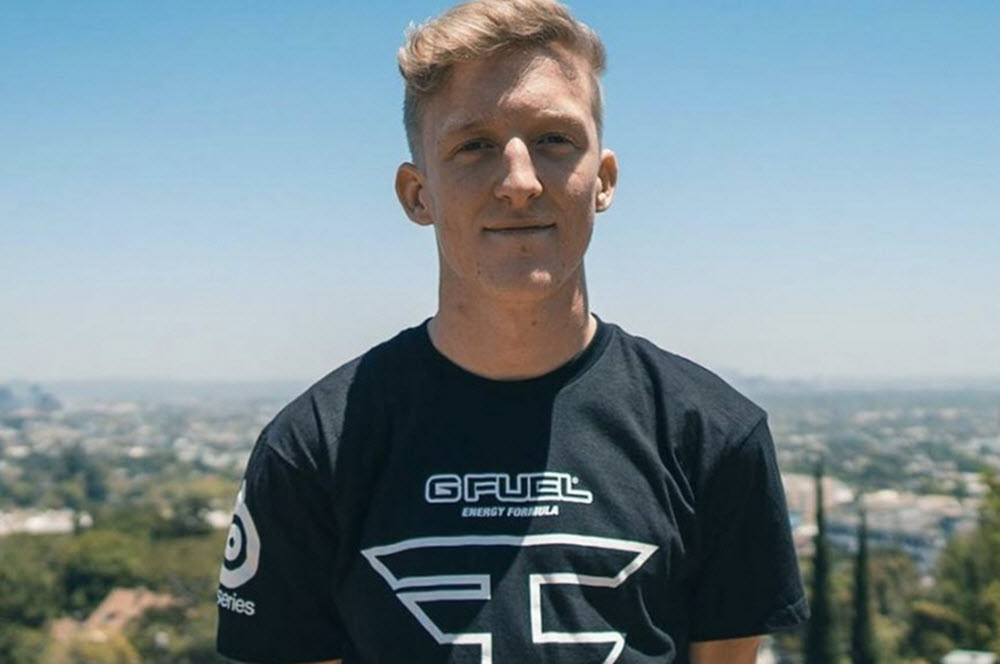 Short facts
Turner Tenney was born in Florida, USA, on January 2, 1998.
At the time of writing, Tenney lives in Los Angeles, California, USA.
Tfue is the brother of Jack "JoogSquad" Tenney, a YouTube vlogger known for his prank videos. The two brothers sometimes do collaborative videos together.
Career
After a period of doing YouTube videos with his brother, Tfue started his own YouTube channel and Twitch channel with a focus on streaming Destiny and Call of Duty. In addition to ordinary streaming videos, he also did a lot of how-to videos and commentary videos.
In 2016, Tfue moved on to the free-to-play battle royale game H1Z1, and he then started playing PlayerUnknown's Battlegrounds (PUBG) publicly a few months after the game's release.
Tfue's career as a video game streamer on YouTube and Twitch really took off after he was invited to the FaZe Clan in April 2018.
Subscriber milestones
Tfue reached 1 million subscribers in May 2018 and 5 million subscribers in October that same year. He reached 100 million views in mid-July 2018 and 300 million views around October 20. Early in December, the number of views surpassed 400 million.
Source: SocialBlade.com
Being banned, hacked, etc
Banned from Twitch in May 2018
On May 17, 2018, Tfue was banned from Twitch after having said the racial slur coon.
He promptly made an apology video where he also explained details regarding the situation.
On May 18, his ban was reduced from 30 days to 7 days. He was thus back on Twitch again by 24 May 24.
Banned from Fortnite in June 2018
On June 22, 2018, Tfue's Fortnite account was banned since he had been selling accounts with rare skins.
Tfue created a new account called "Not Tfue" that held absolutely no skins except the recruiter skin (also know as default or simply no-skin playing).
On November 5 that same year, Fortnite's developer Epic Games sent him an email where they offered him to get the Fortnite NFL Football Skins early, an offer which Tfue declined. Despite this, Epic Games gave him the skins. On November 6, Tfue purchased the Bullseye skin, citing that Epic Game's gift meant that he was no longer a "real default" anyway.
Social media hacks in August, 2018
On August 7, 2018, Tfue's accounts on YouTube, Twitter and Facebook were hacked.
His Twitter alias was changed to FaZe Gury. The profile picture was changed to that of an unknown man. Someone posted tweets that were insulting to other YouTubers and Fortnite Streamers, including Myth, Ninja and Keemstar.
The hacked YouTube account started displaying a video advertising @ItzSatoshi and @Wtfloln*gger and the hackers spanking each other.
Tfue regained control over his YouTube account on August 14, only to have his channel closed down by a hacker on August 23. Also on August 23, his Twitch account was suspended due to harassment.
Tfue's YouTube channel was reinstated on September 5.