Richard Tyler Blevins, known under the alias Ninja, is a United States Twitch streamer, YouTuber and professional gamer. He chiefly streams Fortnite, H1ZI, Halo, and PlayerUnknown's Battlegrounds.
In March 2018, Blevin's broke the previous viewership record on Twitch by playing Fortnite together with the celebrities Drake, Travis Scott and Juju Smith-Schuster. The following month, he set a new record as about 667,000 live viewers watched his event NinjaVegas 2018.
In September that same year, Ninja became the first professional eSport player ever to feature on the cover of ESPN The Magazine, a step generally seen as clear evidence for how eSport is becoming more accepted by traditional sports media.
As of October 2018, he was one of the most followed streamers on Twitch, with nearly 12 million followers, averaging almost 60,000 viewers per stream. At this point, his total views had reach well above 355 million.
In December 2018, his YouTube channel had well over 2 million subscribers.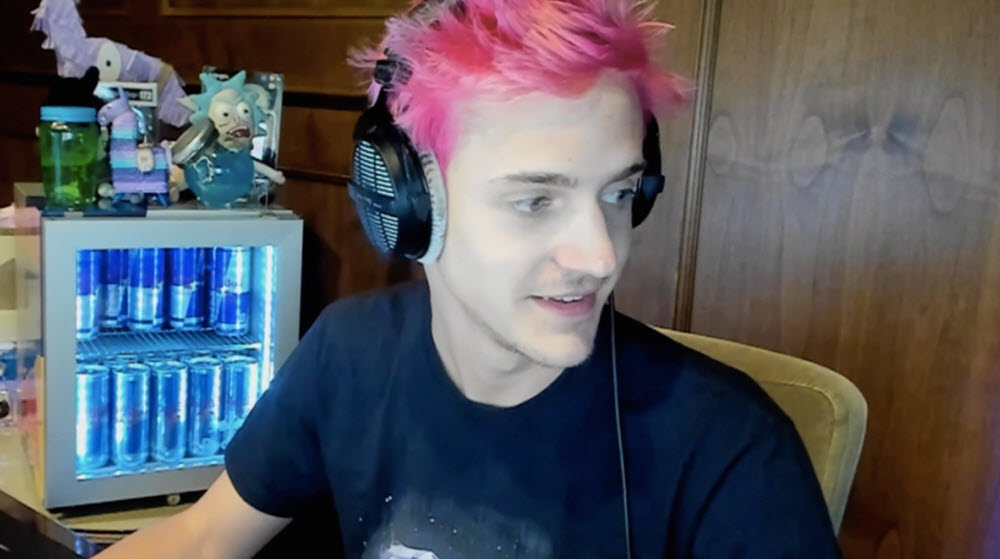 Short facts
Richard Tyler Blevins was born in Detroit, Michigan, USA on June 5, 1991, to American parents of Welsh descent.
He is chiefly known under the alias Ninja, but also uses the alias NinjasHyper.
At the time of writing, Blevins lives in Grayslake, a village located within the Chicago metropolitan area in Illinois, USA.
Blevins has previously played for the eSport teams Cloud9, Renegades, and Team Liquid. He is currently with Luminosity Gaming.
Background
Blevins was born in Detroit, but moved with his family to the Chicago metropolitan area when he was just a year old. He grew up in a suburb there, enjoying a childhood that included both traditional sports and video gaming. During his time at Grayslake Central High School, he played soccer and video games.
After graduating from high school, Blevins decided to pursue a professional career in video gaming.
Career
Blevins became a professional Halo 3 player in 2009, but didn't turn to streaming until 2011. His Halo-playing was eventually accompanied by H1Z1, and then PlayerUnknown's Battlegrounds.
After playing for the teams Cloud9, Renegades, and Team Liquid, he joined Luminosity Gaming in 2017, first as a Halo player and then with a focus on H1Z1 and eventually also PUBG, winning the PUBG Gamescome Invitational Squads classification.
After was after he started streaming Fortnite sessions that his viewership numbers really began to sore. Data from September 2017 show around half a million followers. Six months later, that number had grown by 250%.
Twitch records
The streaming session in March 2018 where Ninja played Fortnite with the musicians Drake and Travis Scott, and the footballer Juju Smith-Schuster, set a new viewership record on Twitch.
In April 2018, Ninja broke his March record with the event Ninja Vegas 2018, and event seen by about 667,000 live viewers.
Charitable gaming
Ninja has participated in several fundraising events online and also personally donated money to charitable organisations.
One example is the fundraising stream event held in February 2018 that raised over 110,000 USD for the American Foundation for Suicide Prevention. Two months later, Ninja participated in the #Clips4Kids event along with fellow streamers Timthetatman and Dr. Lupo, and the gaming community managed to bring in over 340,000 USD for St Jude's Children's Research hospital.
After winning the Fortnite Pro-Am event at E3 2018 with musician Marshmello, 1 million USD was donated to a charity of their choice.
Ninja is also a supporter of the Alzheimer's Association, which is based in his hometown Chicago.
Controversial stance on streaming with women
In an interview with Polygon, Ninja stated that he doesn't stream with female gamers. The reason is to avoid rumours, since he is a married man.
After being criticized for this approach, Ninja issued a response where he reaffirmed his decision, citing his commitment to his marriage.
In an interview published on espn.com, he explained that a one-on-one stream where two people game and talk for hours at a time is very intimate in a way and that the rather not do that with any other woman than his wife. He also stated that women gamers are welcome to play with him in a group and at events.
Sponsorship
In June 2018, Blevins announced a sponsorship deal with Red Bull Esports. As a part of the deal, he held a special Red Bull Rise Till Dawn Event in Chicago that summer where fans could challenge him.
Record deal
In October 2018, Ninja announced that he would be compiling an album titled Ninjawerks: Vol. 1 for the record label Astralwerks, featuring original tunes by artists and bands such as Nero, Tycho, Alesso, and 3LAU.