KuroKy is the alias of a German professional Dota 2 player who is one of only three players that have competed in every The International. (The other two are Puppey and ddc.) KuroKy was also the very first Dota 2 player that reached 1,000 professional wins.
By 2018, KuroKy's accumulated winnings from eSport exceeded 4 million USD, coming from over 90 different tournaments played in 2008-2018. He is one of the highest earning eSport players ever. Before changing over to Dota 2, he was a Defense of the Ancients: Allstars player.
A large chunk of his prize money so far was earned in 2017, when he realized his dream of winning "The International", the first and foremost Dota 2 tournament in the world.
KuroKy is as part of TeamLiquid, where he has the roles of captain and support.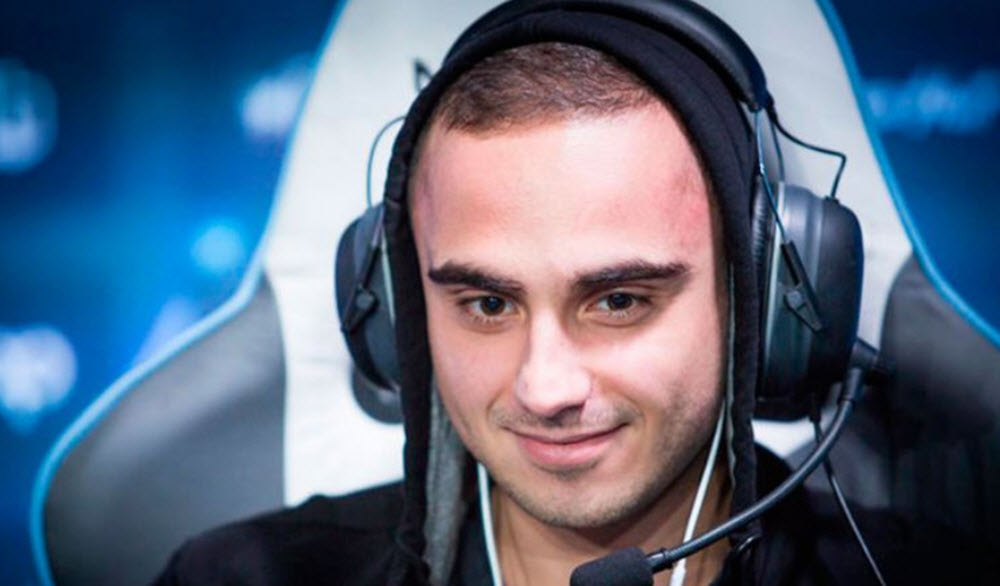 Short facts
Name
Kuro Salehi Takhasomi
Alias
KuroKy
Nationality
German
Born
28 October 1992
Profession
Profession Dota 2 players
Current team affiliation
Team Liquid (since 2015)
Previous team affiliations
Natus Vincere (2013-2014)

Team Secret (2014-2015)

5Jungz (2015)
Takhasomi is of Iranian descent. In Persian, his name is written کوروش صالحی تخاسمی<.
Career
Defense of the Ancients
KuroKy started his eSport career with Defense of the Ancient tournaments in 2008, when he was just 16 years old. Initially, he was a carry player for Team Mousesports, Kingsurf, Nirvana.int, MYM, and Ks.int.
Dota 2: Early era and break through
KuroKy started playing the beta version of Dota 2 when it was released, and he participated in the inaugural The International in 2011.
In 2013, KuroKy joined the Natus Vincere team as support player and finished second in The International.
After a not so illustrious 2014 for Natus Vincere, KuroKy and his team mate Puppey left the team to form Team Secret with Fly and N0tail from Fnatic and s4 from The Alliance. After a bit of a roster shuffle, Team Secret soared to new heights and won four consecutive LAN finals, regrettably followed by not doing as well as predicted in The International 2015.
Dota 2: Team Liquid
After the disappointing The International 2015, KuroKy left Team Secret to form 5Jungz together with JerAx, MinD_ContRoL, FATA-, and MATUMBAMAN. Pretty soon, the large eSport organization Team Liquid signed the whole 5Jungz team.
Playing for Team Liquid, KuroKy went from one great performance to the next in 2016, reaching silver in The Shanghai Major and The Manila Major, and winning at EPICENTER 2016.
After some roster adjustments, the Dota 2 part of Team Liquid won the prestigious The International 2017, after emerging victorious from several LAN's in succession. At that point, both Miracle- and GH had been added to the team.
KuroKy: Examples of notable placings 2013-2018
Winnings
| | | |
| --- | --- | --- |
| Year | Event | Team |
| 2017 | EPICENTER 2017 | Team Liquid |
| 2017 | The International 2017 | Team Liquid |
| 2018 | China Dota2 Supermajor | Team Liquid |
Second places
| | | |
| --- | --- | --- |
| Year | Event | Team |
| 2013 | The International 2013 | Natus Vincere |
| 2016 | Shanghai Major 2016 | Team Liquid |
| 2016 | ESL One Manila 2016 | Team Liquid |
| 2016 | EPICENTER 2016 | Team Liquid |
| 2016 | Manila Major 2016 | Team Liquid |
Third places
| | | |
| --- | --- | --- |
| Year | Event | Team |
| 2015 | Dota 2 Asia Championship 2015 | Team Secret |
| 2015 | The Summit 3 | Team Secret |
| 2015 | MarsTV Dota 2 League | Team Secret |
| 2015 | ESL One Frankfurt 2015 | Team Secret |
E-sport earnings
Year
Total Results
Online Results
Offline/LAN Results
2018
$617,150.40
$1,000.00
$616,150.40
2017
$2,436,772.40
$5,400.00
$2,431,372.40
2016
$362,813.20
$3,041.60
$359,771.60
2015
$333,892.82
$9,023.00
$324,869.82
2014
$189,893.70
$45,256.80
$144,636.90
2013
$156,581.09
$12,064.08
$144,517.01
2012
$1,100.00
$600.00
$500.00
2010
$600.00
$600.00
$0.00
2008
$123.34
$0.00
$123.34
(Source: Esportsearnings.com)