Fortnite is an online video game developed by Epic Games. So far, it exists in two modes:
Fortnite Save the World (early access release in 2017)
A player-versus-environment style game. Up to four players can play together to fend off zombie-like creatures known as husks.
Fortnite Battle Royal (early access release in 2017)A battle royale-style game where you compete against other players, either alone or in a duo or squad.  Download for free here.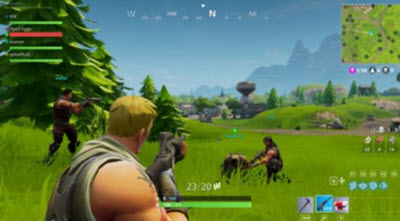 The two modes come in separate software packages, but share the same general gameplay and game engine. Both have a focus on cooperation, scavenging and shooter-survival.
At the time of writing (2018), both game modes are available for Xbox One, PlayStation 4, Windows, and macOS, and Battle Royale has been released for Nintendo Switch, iOS, and Android as well.
While Fortnite: Save the World was very well received and is considered a successful game, it was Fortnite Battle Royale that became a remarkably huge hit and quickly assembled more than 125 million players in less than a year. Today, Epic Games is generating hundreds of millions of dollars per month from Battle Royale, and some of the characters have become widely known even outside gaming circles.
As a comparison, Save the World had 1 million players in August 2017, right before the release of Battle Royale. Battle Royal on the other hand had accumulated over 10 million players within its first two weeks after being launched.
eSport
Epic Games has announced that they will hold organized Battle Royal e-sport competitions in 2019, including a World Cup Tournament.
At the Electronic Entertainment Expo in June 2018, Epic Games arranged a Fortnite Battle Royale pro-am with 50 pairs of streamers and professional players matched with celebrities.
Epic Games got the inspiration to do the event from a live streaming session on Twitch in March that year, where famous streamer Ninja played Battle Royale alongside celebrities such as Drake (musician), Travis Scott (musician), Kim DotCom (entrepreneur) and JuJu Smith-Schuster (American football player). That March session set a new viewership record for Twitch.
Examples of awards
Award
Category
2018 Webby Awards
People's Voice Award for Best Multiplayer/Competitive Game
2018 Game Critics Awards
Best Ongoing Game
2018 Teen Choice Awards
Choice Videogame
Golden Joystick Awards 2018
Best Competitive Game
Ultimate Game of the Year
Game modes
Fortine is distributed in two different games modes:
Fortnite: Save the World (player-versus-environment style)
Fortnite Battle Royal (player-versus-player battle royale style)
Both modes use the same engine, and also feature very similar graphics, game mechanics and art assets.
Fortnite: Save the World
In this game mode, four players cooperate to reach a common goal on various missions. Successful missions award you and the other players with in-game items, which can be anything from survivors to weapon and trap schematics. In-game items can be levelled up (attribution improvement) as you earn experience.
The background story lets us know that 98% of Earth's human population disappeared after a fluke storm, and that the survivors are now being attacked by zombie-like creatures known as husks.
As a player, you will do things such as saving other survivors, defend equipment, collecting resources, and command shelters. Some equipment can be used to collect information about the storm or to actually push back the storm.
Fortnite Battle Royale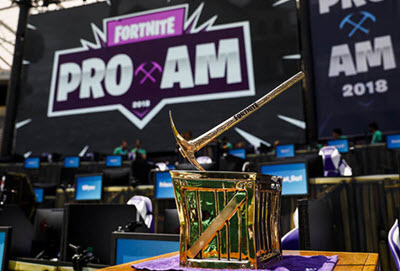 As the name suggests, this is battle royal mode. It's player-versus-player, and with room for up to 100 players. You can play alone, in a duo or band together to form a squad. In Fortnite Battle Royale, a squad typically consist of three or four members.
The last player, duo or squad alive wins the game.
At the start of the game, the players are airdropped into the game from a Battle Bus that crosses the game's map. At this point, they have no weapon and must scavenge to find things to arm themselves with. Scavenging will also be required to obtain resources, including non-weaponry items.
A storm is drawing closer and closer as you play, which means that the area that is reasonably safe for humans to stay in gets continuously smaller. Thus, the surviving players will be forced into a smaller and smaller area, where avoiding other players become increasingly difficult.
If you spend time outside the reasonably safe area you will be damaged by it, and the damage can be lethal.
The pickaxe
In both Save the World and Battle Royale, players can use a pickaxe to knock down existing structure to scavenge for resources such as brick, metal and wood. Materials can for instance be used to build protective fortifications.
In Battle Royal, structures are commonly utilized for protection against other players.
In Save the World, players often build structures not just for protection against the husks but also to lure in husks and entrap them.
V-Bucks
Fortnite is monetized through the use of the in-game currency V-Bucks.
V-Bucks can be purchased with real-world money in both Save the World and Battle Royale.
V-Bucks can be earned by completing missions and other achievements in Save the World.
In Save the World, you can use V-Bucks to purchase llama-shaped piñatas that contain a random assortment of products.
In Battle Royale, you can use V-Bucks to buy a Battle Pass, which gives you a tiered progression of customization rewards as you gain experience and complete certain tasks throughout the Battle Royale season. V-Bucks can also be used to purchase cosmetic items, including character models.