Released by the Valve Corporation in 2013, Dota 2 is a video game of the multiplayer online battle arena (MOBA) type played in matches between two 5-member teams.
The game is a sequel to Defense of the Ancients (DotA), which in turn was a community-created mod for Blizzard Entertainment's video game Warcraft III: Reign of Chaos and the expansion pack The Frozen Throne.
Since its original release, Dota 2 had been updated with various features, and the game went through a full transition to the Source 2 engine in 2015.
Nowadays, Dota 2 has support for virtual reality (VR).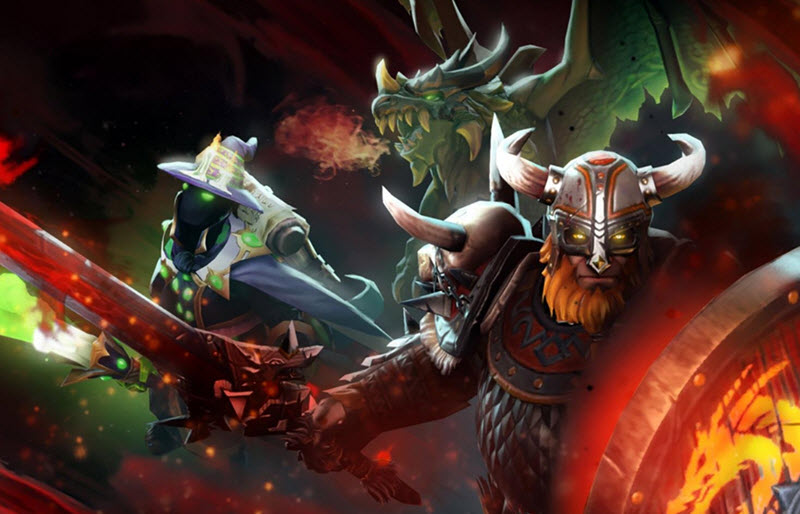 The basics
Dota 2 is played in matches between two teams.
Each team has a team base.
To win, the team needs to destroy the opposing team's Ancient. The Ancient is a large structure located within the team base.
Each team consists of five players.
Each player individually controls a character known as a hero. Each hero has unique characteristics and abilities that differ from the abilities of the other heroes.
Throughout the match, players can obtain experience points and items that give their heroes various advantages in player-versus-player combat situations.
Short facts about Dota 2
Official release
2013
Genre
Multiplayer Online Battle Arena (MOBA)
Modes
Single-player

Multi-player

Developer
Valve Corporation
Publisher
Valve Corporation
Designer
IceFrog (pseudonym)
Writers
Marc Laidlaw

Ted Kosmatka

Kris Katz

Composers
Jason Hayes

Tim Larkin

Engine
Source 2
Platforms
Microsoft Windows

Linux

OS X

Release
2013
Revenue model
The game is fully free-to-play.
No heroes need to be purchased or otherwise unlocked.
Revenue is made from microtransactions within the game, where players can buy things such as loot boxes and Dota Plus. Dota Plus is a Battle Pass-style subscription.All the items that can be purchased are non-gameplay alternting goods, e.g. a different looking armour for your hero.
A lot of official merchandise is available for purchase, such as toys and branded clothing. In November 2018, a digital collectible card game called Artifact was released by the Valve Corporation, based on the Dota 2 universe.
Reception
Dota 2 has been praised by gamers for its production quality and rewarding gameplay. It is frequently included in lists featuring the greatest video games of all time.
Since its release on Steam in 2013, it has been one of the most played games on Steam, peaking at over 1 million concurrent players.
Data 2 has a very active competitive scene that includes numerous leages and tournaments. You can read more about this below.
E-sport
Dota 2 is huge within the eSport world, and premium tournaments tend to have millions of USD in their prize pots. By mid-2017, professional players had made over 100 million USD from Dota 2 tournaments, with over half of the money coming from The International.
Professional Dota 2 matches are often streamed live online, with Twitch.tv being the primary medium. High-profile matches are sometimes simulcast on television networks such as ESPN (United States), BBC Three (United Kingdom), and Xinwen Lianbo (China).
Just as with analogue sports, major Dota 2 events typically have panel members doing pre-game and post-game discussions, and commentators doing in-match commenting.
The early days
The first Dota 2 eSport events were arranged in the early 2010s. The game was being beta tested then, and eSport events was a way of getting players interested in the new game (that back then was only available for Windows). Dream Hack, World Cyber Games, ESL, and Electronic Sports World Cup are all examples of events where early Dota 2 contests took place.
Before 2011 was over, Dota 2 – still in its beta phase – had grown to be one of the highest-paying eSport games in the world, second only to StartCraft II.
TI
The International (TI) is an annual Dota 2 tournament hosted by the Valve Corporation. The first tournament was held in Germany in 2011, when the game was still in the beta testing stage, a featured a 1.6 million USD prize pool. Since then, TI has grown each year, and since 2013 the prize pool has been funded by the Dota 2 community through the Compendium battle pass feature. The 2018 TI had a prize pool exceeding 25 million USD, a new record in the history of eSport.
Dota Pro Circuit
The Valve Corporation managed the Dota Pro Circuit, which is a series of tournaments held prior to Internationals.
Dota Major Championships
In 2015-2017, Valve sponsored a series of smaller-scale tournaments known as the Dota Major Championships. Each one had a 3 million USD prize pool.