Hearthstone is an online collectible card video game developed and published by Blizzard Entertainment. It is an offshoot of the video game Warcraft, and when it was first launched in 2014 it had the full name Hearthstone: Heroes of Warcraft.
The creation of Hearthstone: Heroes of Warcraft was an experimental project rooted in the fact that many people working at Blizzard were interested in collectible card games. The game was developed by a small team who paid special attention to translating the sensation of a physical card game to the digital world.
After its world wide release in 2014, the game generally received favourable reviews and it also became a major commercial success for Blizzard. In late 2018, Blizzard reported that there were now over 100 million Hearthstone players in the world.
Since the original release, new content has been added on by Blizzard in the form of new card sets and expansion packs with new quests / adventures.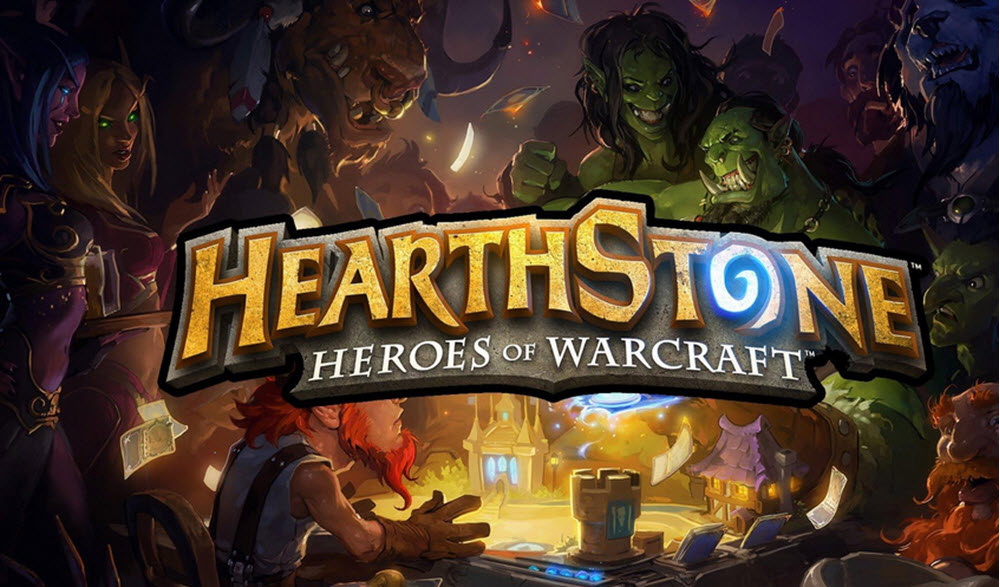 Short facts
Developer
Blizzard Entertainment
Publisher
Blizzard Entertainment
Directors
Ben Brode, until early 2018

Jason Chaves

Eric Dodds

Designers
Derek Sakamoto

Mike Donais

Composer
Peter McConnell
Engine
Unity
Mode
Single-player

Multi-player
Playing Hearthstone – the basics
Hearthstone is a digital turn-based card game played between two opponents.
The players use constructed 30-card decks + a hero with a unique skill.
The goal of each player is to destroy the other player's hero.
Mana crystals (which are limited) must be used in order to play abilities or summon minions to attack the opponent.
Hearthstone is based on the existing lore of the Warcraft series and utilizes a lot of the same characters, relics and elements.
Not just the art assets but also many concepts in Hearthstone are based on those found in the physical World of Warcraft Trading Card Game.
Modes of play
Hearthstone features several modes of play, including:
Casual matches
Ranked matches
Drafted arena battles
Single-player adventures
Microtransactions and rewards
Players can use microtransactions to buy new cards, but it is also possible to get rewarded with new cards by winning matches and completing quests.
Won matches and completed quests can also give a player in-game gold or other in-game rewards.
In-game gold can be used to pay for new cards.
Platforms
Available worldwide for Windows since 11 March, 2014.
Available worldwide for macOS since 11 March, 2014.
Available worldwide for iOS since 16 April, 2014.
Available worldwide for Android since 15 December, 2014.
If you play Hearthstone using any of these four supported operative systems, you can play against other players regardless of which operative system they use, since the game has support for cross-platform play. (Please note that there are still geographical region account limits, which means that you don't have access to all players.)
Esport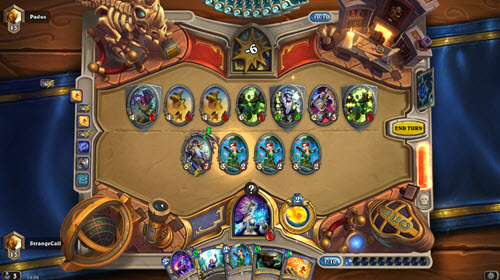 Hearthstone is a popular esport, and there are even professional players that make a living streaming their games on Twitch.tv and running YouTube channels.
High-level Hearthstone tournaments tend to have a lot of money in the prize pool. There is for instance Blizzard's official World Championship which currently have 1 million USD in the prize pool. For most profession players though, the income from livestreaming vastly exceed the income from tournament winnings.
Professional Hearthstone coaching services has been around since 2014, catering to the needs of players who wish to improve their game. Some high-level players, including Nathan "ThatsAdmirable" Zamora, have coaching as their main revenue stream.
Parallel with the highly publicized high-level tournaments, organisations and companies such as MLG, ESL and ZOTAC host small Hearthstone leagues and events with modest or no prize pools, intended to give everyday hobby players from beginner's level and up a chance to try out tournament play.
Background
Right from the get-go, Blizzard has been promoting Hearthstone as a game suitable for tournaments, and also utilized tournaments as way of promoting the game. Even while the game was still in closed beta, tournaments were hosted by both Major League Gaming and ESL. In November 2013, prior to the worldwide release in 2014, Blizzard arranged The Innkeeper's Invitational tournament, featuring well-known eSport players such as Jeffrey "TrumpSC" Shih, Byron "Rackful" Bernstein, Dan "Artois" Stemkoski, and Octavian "Kripparrian" Morosan. The best-of-five tournament – which was played with three decks, each of a different class – was ultimately won by Artois, who was thus proclaimed Grandmaster of the Hearth.
After the official release of the game in 2014, numerous tournaments were arranged in quick succession, including events at DreamHack Bucharest in Romania and EGZ Rezzed in the UK. For the BlizzCon 2014, a whopping 250,000 USD was placed in the prize pool for the Hearthstone tournament – setting a new record. 2014 was also the year when the eSport organisation Tespa announced the Collegiate Hearthstone Open, a free-to-enter tournament for North American college students where it is possible to win scholarships.
The Hearthstone World Championship
2014
The inaugural Hearthstone World Championship took place at BlizzCon on 7-8 November, 2014. Each of the four geographical regions had been holding regional qualification tournaments prior to this. The prize pot for the world championship consisted of 250,000 USD, of which 100,000 USD went to the winner James "Firebat" Kostesich.
2015
The second instalment of the Hearthstone World Champion, which took place at BlizzCon 2015, sported a best-of-five conquest format and was won by Swedish player Sebastian "Ostkaka" Engwall who was awarded with 100,000 USD.
2016
For the World Championship at BlizzCon 2016, first prize – which went to Russian player Pavel Beltiukov – had been boosted to 250,000 USD. This time, a Swiss-system tournament form was used and one class could be banned from use by the opponent.
2018
The fourth Hearthstone World Championship didn't take place in 2017 but very early in 2018, and it was held in Amsterdam in the Netherlands. There was 1 million USD in the prize pool, and the winner – Chen "tom60229" Wei Lin from Taiwan – got 250,000 USD.